Covid-19 Design Innovation Grant Graphic Design Winner Announcement
International Design Awards (IDA) and European Product Design Awards (ePDA) Announce Winners of COVID-19 Design Innovation Grant
The International Design Awards (IDA), in collaboration with the European Product Design Awards (ePDA), recently issued a call for entries to the Covid-19 Design Innovation Grant, as a way to find and support those whowere working to provide innovative solutions to tackle some of the most pressing problems and needs during the Coronavirus Pandemic.
The open call received an overwhelming response, with hundreds of creative designs and ideas submitted from all over the world, showing how talented and visionary designers were turning their skills towards tackling these issues in practical ways.
The Graphic Design call for entries invited graphic designers and illustrators to submit their designs for a resource to help the public protect themselves, prevent spreading the virus to others, or deal with the psychological effects of isolation. The Final Winner of this $2,000 Grant is Nakevia Miller – COVID-19 Austin Area Response project.
These designs were developed as part of a community education initiative for the COVID-19 Austin Area Response project by an Austin-based collective, Community Resilience Trust. CRT is a collective of community leaders, non-profits , and volunteers that are focused on making sure that Austin's response to this crisis is equitable in all aspects, including developing solutions and infrastructure to serve the various communities of Austin that have historically been neglected in emergency response efforts, including African American, LatinX, LBGTQ, Asian America, etc.
These infographics are the first in a series of pieces to make information accessible regardless of literacy, native language, and hopefully technology access.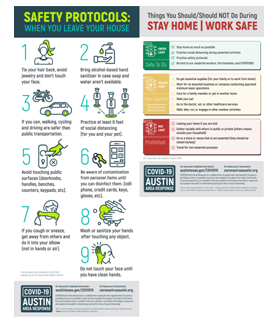 Speaking about the Grant and its purpose, IDA's founder, Hossein Farmani, commented: "It's important that design awards like IDA utilize the tremendous resources that we have at our disposal through our network, in encouraging the design community to put their creativity to work for a common human cause." He continued, "By awarding these grants, we create an atmosphere where designers can be part of the collective solution for better, safer, more secure life for all mankind, which is why we emphasized the importance of all submitted designs and creations being made available to the public so that these ideas can be reproduced, improved on, and be easily accessible for all."
IDA's manager, Hannah Lillethun, also commented, "It has been heart-warming and inspirational to see how many people accepted our challenge and have put such effort and passion into creating these new designs and being willing to share them with us, and the world. This is what we are about — getting themincredibly talented and innovative designers from all disciplines to push boundaries and take steps forward that others can follow towards a better future."
Below are the other Grant Finalists in the Graphic Design Category: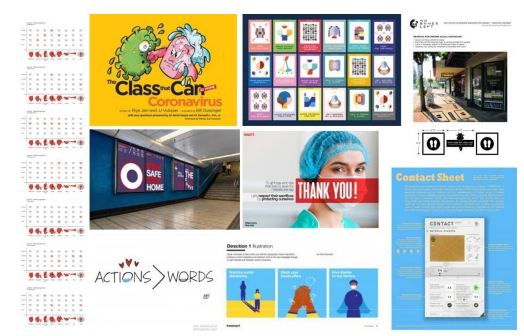 Annalisa Raho, Bill Dussinger, Chiara Zhu, Elsa Carenbauer, Enea Mauro, James Annan, Jessica Esch, Harriet Tzou, Vittorio Lovato (left to right).
Winners in the other 3 Grant categories can be seen on the IDA Website.
International Design Awards (IDA) exists to recognize, celebrate and promote legendary design visionaries and to uncover emerging talent in Architecture, Interior, Product, Graphic, and Fashion Design. IDA aspires to draw attention to the iconoclasm of design worldwide that is conceptualizing and producing great work. Farmani Group assembled IDA in 2007 which has now become one of the leading Design Awards in America awarding and promoting hundreds of designers each year.
Farmani Group, established in 1985, is the organizer of International Design Awards (IDA), Architecture MasterPrize (AMP), European Product Design Awards (EPDA), Prix de la Photographie in Paris (PX3), London International Creative Awards (LICC), International Photography Awards (IPA) and the Annual Lucie Awards for Photography, which has emerged as one of the world's most prestigious photography awards.
For more information, visit:
www.idesignawards.com
facebook.com/idesignawards
farmanigroup.com
Media Contact
Company Name: International Design Awards (IDA)
Contact Person: Hannah Lillethun
Email: Send Email
Country: United States
Website: https://idesignawards.com/