Vultor Launches Its Revolutionary NFC-Enabled Card
Vultor Launches NFC-Enabled Card for Financial Freedom: Providing Secure Banking Services Worldwide via Blockchain Technology.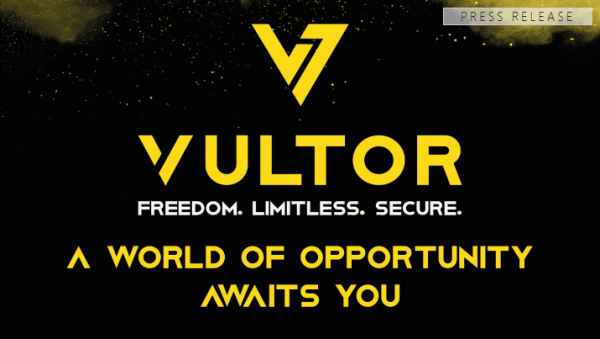 Vultor, the blockchain-based crypto payments project, has recently launched its NFC-enabled card, which aims to provide banking services to those without access to traditional banking, thus encouraging and contributing to users' financial freedom. Through the Vultor card, the company plans to provide high levels of security and privacy for worldwide users.
User's Financial Control
Vultor, a crypto company offering a cutting-edge ecosystem that revolutionizes the financial field, has recently introduced its NFC-enabled card, called the Vultor card. The announcements were made on Twitter, with the latest update on August 23, 2023.
The main goal of the Vultor card is to offer worldwide users a new way to use and perceive digital assets. Vultor's vision is that everyone, including the unbanked population, should always have access to financial services. And if traditional banking is not available in specific developing areas, blockchain-based processes do not require as much effort.
Vultor Pay, the company's main service, can be considered a trailblazer in digital crypto payments, acting as an intermediary for transactions between consumers, merchants, financial institutions, and governmental agencies.
Its main objective is to connect individuals, businesses, and economies globally by providing an advanced, reliable, and user-friendly payment blockchain network. This way, everyone from everywhere will be able to progress and become independent financially by having access to advanced financial services.
Contactless Transaction Verification
Vultor's revolutionary NFC-enabled card is truly contributing to improving the financial field. The card utilizes NFC (Near Field Communication) to securely sign and authorize transactions and payments. The process can be completed by simply tapping the Vultor card on a mobile device.
Such a process comes with great advantages, as it means that users have sort of a POS terminal in their pockets. This way, anyone can accept crypto payments in just a few moments. Whether it's a flower business, drinks, or food, users can pay with crypto by simply putting their Vultor card on someone's NFC-powered smartphone.
NFC is a communication protocol that allows users to create contactless connections between devices positioned within a range of 4 cm or less from each other. It is much like paying by card at a POS, but NFC-powered devices are smaller, lighter, and do not have only one function. NFC can be integrated into both hardware and software crypto wallets, increasing financial freedom and allowing anyone with a common smartphone to accept or receive cryptocurrency payments.
Considering everything is built on blockchain, Vultor is committed to offering its users a safe and secure trading experience. The platform has developed advanced security features in order to safeguard users' funds and personal information.
To ensure that it provides a high level of security, the crypto project is also subject to legal audits. Besides, the team behind Vultor is dedicated to providing the smooth and efficient operation of the platform.
To learn more about Vultor, its products, and its latest updates, do not forget to follow the crypto project's activity on –
Twitter: https://twitter.com/vultorpay
Telegram: https://t.me/vultorpay
Instagram: https://www.instagram.com/vultorpayments/
About Vultor
Vultor Fintech Payments is a crypto project that aims to improve the financial field by offering a new way to use and perceive digital assets. The company's platform enables users to use crypto coins and tokens as a payment method seamlessly. This way, Vultor effectively welcomes the world into an era of fast, secure, cashless, bankless, and truly reliable transactions.
At the moment, the main project of the company is the Vultor card, an NFC-enabled card that allows users to receive and send crypto payments quickly and securely. The Vultor platform supports various cryptocurrencies, including the most popular and widely used, such as Bitcoin (BTC), Ethereum (ETH), Litecoin (LTC), Ripple (XRP), and many more.
Media Contact
Company Name: Vultor FinTech s.r.o
Contact Person: Mohammed Hasan Nawaz
Email: Send Email
City: Praha
Country: Czech Republic
Website: vultor.io