Muslim Marriage Bureau Gujarat Launches A Dedicated And Secure Online Matrimony For Muslims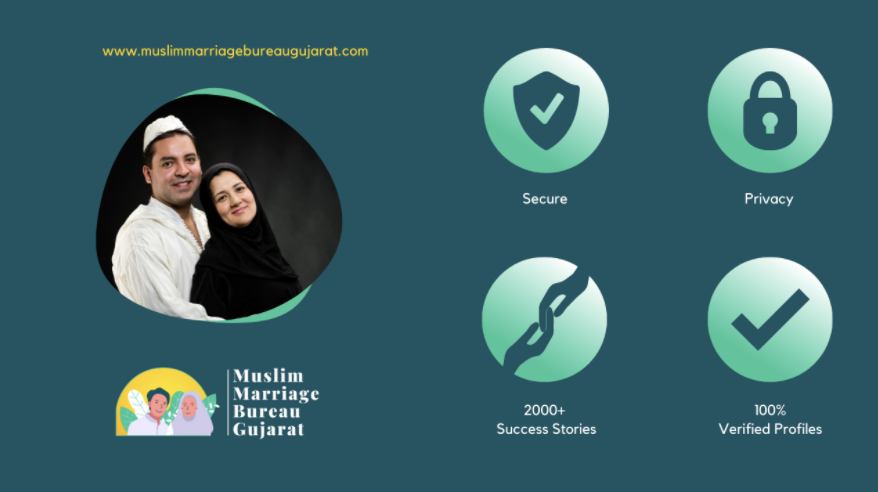 Muslim Marriage Bureau Gujarat aims to revolutionize the match-finding experience for Muslims across cities of Gujarat such as, Ahmedabad, Vadodara, Anand, Rajkot, Junagadh, and Surat, among others, by introducing an AI-driven match-making matrimonial.
Muslims of marriageable age and their families in Gujarat, and India, face an existential dilemma. The multi-faceted dilemma of finding the right life partner. The constituents that contribute to the complexity of this life altering situation are many. Peer pressure, one's age, educational qualifications, social compatibility, and parental influence, to name a few. In terms of solutions to this large cauldron of problems, there are practically none.
There are national matrimony websites that have ventured into the Muslim matrimony space, and then there are the traditional match-making aunts (fondly known as khalas) but both of them fail to address the core issues that plague today's Muslim society. National level marriage bureaus don't have the right kind of local reach, and match-making aunts are just too hyper-local.
Enter Muslim Marriage Bureau Gujarat. SR Munshi, and Gulam Shaikh, the founders of MMBG or Muslim Marriage Bureau Gujarat, claim to have come up with a remedy for all these maladies. "We strongly believe that match-making processes should adhere to the Islamic traditions of courtship, and still be modern, practical, and secure, all at the same time" says Munshi.
Another feature that sets Muslim Marriage Bureau Gujarat from their competitors is their smart, AI-driven match-making algorithm. Gulalm Shaikh, the co founder claims "Alhamdulillah, Our system is so successful that we're currently helping an average of 50 people a month find their perfect partner!"
The marriage bureau was launched a year ago, and has been made famous by word-of-mouth and through social networking within the Muslim community of Gujarat.Jabbar Mansuri, father of woman who found her partner through MMBG says – "Muslim Marriage Bureau's team is really efficient at matching profiles. Masha Allah, all the profiles that were recommended for my daughter were from appropriate families. My daughter had left the decision of choosing a life partner for her to me and today I'm proud of the fact that the family I chose for her treats her like their own daughter."
Munshi and Shaikh are happy with their dream project turning into reality, and are working hard to launch an Android and iOS app shortly as well. Their future goals include expanding to other states across India, and eventually catering to the matrimonial needs of Muslims across the country. The only reason they haven't launched their portal pan-India to begin with is because they want to focus on providing a quality experience to their users, and don't believe in rushing things.
Important links
Website: https://muslimmarriagebureaugujarat.com/
https://www.instagram.com/muslimmarriagebureaugujarat/
https://www.facebook.com/Muslim-Marriage-Bureau-Gujarat-107140615100333
https://www.youtube.com/channel/UCN-tRA3B5B8HDxc–ZBqL7A
Media Contact
Company Name: Muslim Marriage Bureau Gujarat
Contact Person: SR Munshi
Email: Send Email
Address:F 10, First Floor, Lal Plaza, Opp. Royal Akbar Tower, Juhapura
City: Ahmedabad
State: Gujarat 380055
Country: India
Website: https://muslimmarriagebureaugujarat.com/